Medical Information - FOR PATIENTS
Center for Colon and Rectal Surgery
---
Hemorrhoids
These are bundles of tissue containing blood vessels, found normally in the anus. When you strain at bowel movements, your hemorrhoids get larger and cause these symptoms:

Rectal bleeding - bright red, heavy, painless
Protrusion outside the anus (prolapse)
Discharge of mucus if the hemorrhoids protrude out often
Pain and itching are not usually due to hemorrhoids, but are due to other anal problems.
Hemorrhoids can be Internal or External (lie outside anus), or both (mixed).
Degrees of Internal Hemorrhoids:
1 degree - painless, bright red bleeding, no prolapse
2 degree - prolapse but the hemorrhoid goes back into anus by itself
3 degree - need to push hemorrhoid back into anus
4 degree - hemorrhoid stays outside anus most of the time
Treatment
1 and 2 degree
Metamucil 1 teaspoon 2 times/day - softens stool, decreases straining
Increase amount of fluids (water, juice) - 6 to 8 glasses/day
If you are still bleeding - Rubber Banding or Infrared Coagulation may be done to shrink the hemorrhoids - you may need to return to the office for several visits to control your symptoms.
3 and 4 degree
The above methods will eventually fail. Surgery is the best cure.
Conventional Hemorrhoidectomy
Fleet enema on night before surgery and again 1-2 hours before coming to hospital
Local anesthetic with intravenous sedatives - less nausea, faster recovery
You may be admitted on the day of surgery - stay overnight
Time off work - 4 days to 2 weeks, this is hard to predict. Some patients have little pain and others have a lot.
95 % success - 5 % recurrence
Here is a picture of how I perform hemorrhoid surgery. An anoscope is in the anus allowing me to cut out the hemorrhoids and suture close the wounds. The hemorrhoid tissue I have to remove and suture close is very sensitive anal tissue.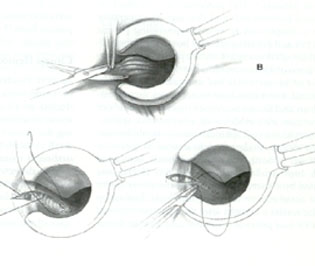 Complications
1 % bleeding/hemorrhage which may need more surgery
1 % infection
5 % temporary urinary retention needing catheter
<1 % loss of control - this is a very rare complication
Recurrent skin tags can occur, especially in women
PPH or Stapled Hemorrhoidectomy. This is a new surgical procedure for hemorrhoids. This procedure is as succesful as conventional hemorrhoidectomy but it is less painful. Many patients needing hemorrhoidectomy are asking about this new procedure. However in many cases, conventional hemorrhoid surgery may be necessary - each patient has to be individually evaluated.
Laser Hemorrhoidectomy. Is the laser treatment truly painless?
Copyright © 2020 Center for Colon and Rectal Surgery, U.S.A. All rights reserved.