Center for Colon
and Rectal Surgery
Robert E.H. Khoo, M.D., F.R.C.S.(C), F.A.C.S.


Specialist in Colon and Rectal Surgery
---
Welcome!
---
In these times of COVID-19 pandemic, we had to temporarily stop elective surgery but now we are allowed to resume surgical care. You are right to be uncomfortable about catching the Coronavirus but our office and the Southern Ocean Medical Center are following strict CDC and government guidelines.
Dr. Khoo just got his 2nd dose of the Pfizer COVID vaccine and feels great!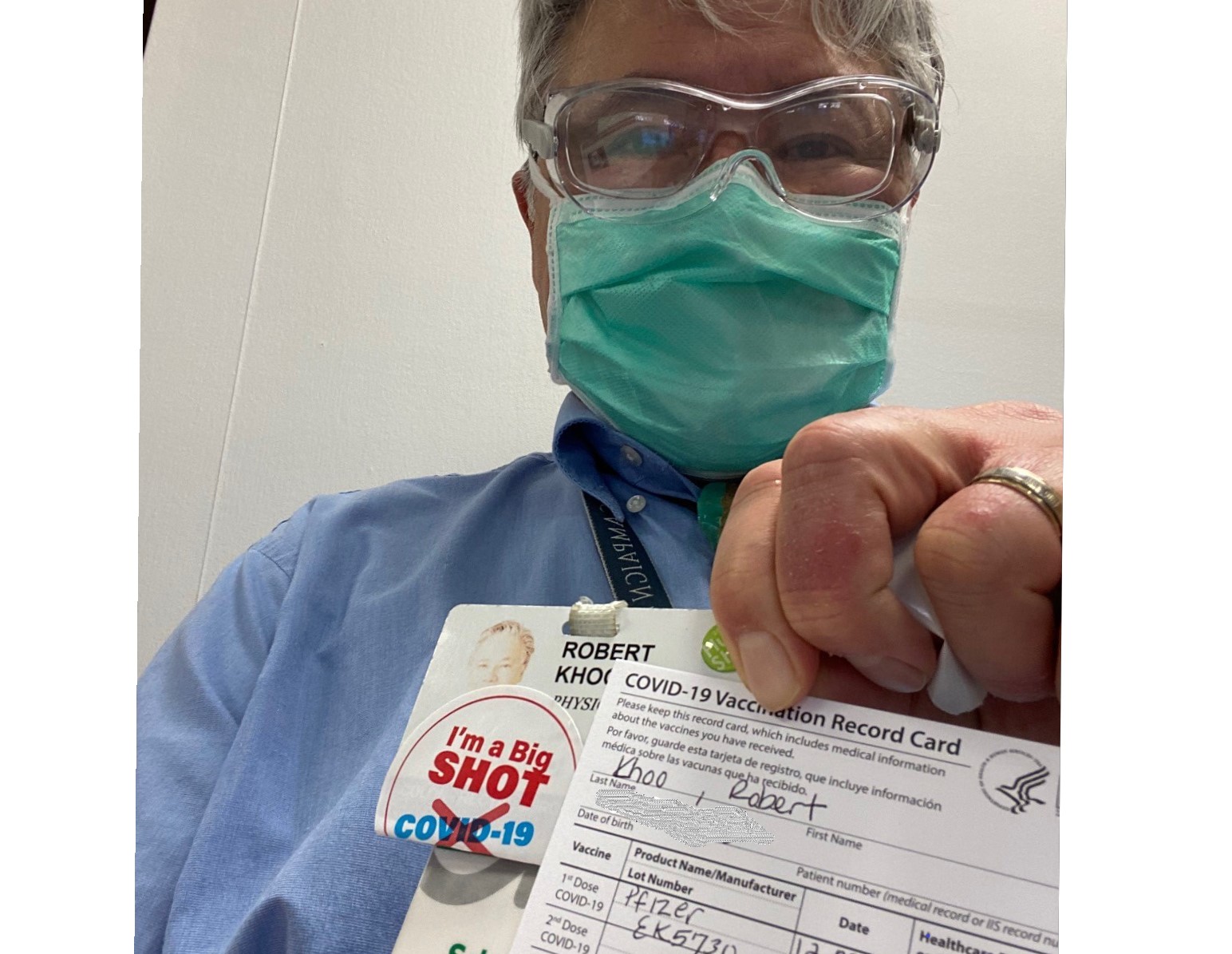 Click for a guide to help you discuss COVID concerns with your surgeon Patient Discussion Guide from the American College of Surgeons

Dr. Khoo joined the Meridian Health system on the New Jersey Shore in 2014. He is the Medical Director of Colon & Rectal Surgery at the Southern Ocean Medical Center.

Dr. Khoo's profile on the Meridian Health website Check out Dr. Khoo's practice details with reviews and ratings


Southern Ocean Medical Center SOMC is ranked #2 in New Jersey for the second lowest risk adjusted Length of Stay for Medicare colorectal surgery admissions. Risk adjustment means a hospital cannot attain a high rating just by treating healthy good risk patients. Counting all Medicare colorectal surgery admissions and despite treating sick patients, through excellent post-op care Dr. Khoo and the nursing staff got an excellent rating - Dexur ranking of NJ hospitals Colorectal Surgery

Southern Ocean Medical Center is ranked #1 of the 9 ranked Hackensack Meridian hospitals using the Dexur Length of Stay for Medicare colorectal surgery admissions ranking data.
Click to see where Southern Ocean Medical Center ranks with the other Hackensack Meridian hospitals

On January 28, 2019 Dr. Khoo moved his office into new suites at 44 Nautilus Dr, 2nd Floor Suite 201, Manahawkin, NJ.
Phone - 609-978-3390

Click for the latest treatment guidelines American Society of Colon and Rectal Surgeons Treatment Guidelines




Dr. Khoo was on the radio in June, 2016 talking about his work in colorectal surgery at Meridian Health:
WOBM News Talk Radio AM 1160 & 1310

March is Colon & Rectal Cancer Awareness month.


Dr. Khoo has spoken on colorectal cancer screening at:
1. St. Francis Community Center, Long Beach Island, NJ on March 3, 2016. A giant colon model was there.
2. Family Resource Center, Ocean Club, Stafford Township, NJ March 10, 2016
3. Men's Health Night, Southern Ocean Medical Center on March 23, 2016


He lectured on How Standardization can Improve the Care for Rectal Cancer patients at the Annual Meridian Oncology Symposium at Jersey Shore University Hospital April 7, 2016

Dr. Khoo was on PBS television channel WPSU State College PA. He was on Conversations LIVE! on March 20, 2014 in an hour discussion on colorectal cancer as part of National Colorectal Cancer Awareness Month.

WPSU Conversations LIVE! Colorectal Cancer

You can see the video on YouTube by copying this link into your browser http://youtu.be/thTMWBM3YuE

You can follow Dr. Khoo on Twitter.

Dr. Khoo's Blog on Social Media and Surgery I just started this blog to explore how Social Media interacts with Surgery, specifically Colon & Rectal Surgery.
On October 21, 2013 I attended the Mayo Clinic Social Media Residency. I learned a phenomenal amount on this new media and started using Twitter, Pinterest, Facebook and blogging. It appears that Social Media is more than what celebrities do but there is more that Medicine and Surgery can do with this media. Please click on the link to my blog.


Welcome to the Home Page of the Center for Colon and Rectal Surgery.
Dr. Khoo practiced in Denver from 1992-2002 where he built a major tertiary referral center for colon and rectal surgery. He left the crowded urban life for the Wine Country from 2002 to 2010. Then he was recruited to Geisinger in rural Pennsylvania.

After 4 years in rural Pennsylvania, he yearned for urban trappings and to be near the sea. He was recruited to serve as the Chief of Colorectal Surgery at the Southern Ocean Medical Center a hospital in the giant Meridian Healthcare system. No longer will you have to travel far for your colon & rectal surgery needs - you can get care here.

We are the premier center for the diagnosis and treatment of all colon and rectal problems. The Center offers unsurpassed experience and skill in the management of these problems. Dr. Khoo is fellowship trained in colon and rectal surgery. He is the only Board Certified Colon and Rectal Surgeon in Ocean County.

Dr. Khoo is Board Certified in General Surgery as well as in Colon and Rectal Surgery. Unlike a general surgeon, Dr. Khoo takes the management of colorectal disease one step further. Patients come from all over NJ to our center. We have received referrals from all over the United States and even Alaska and Hawaii. Patients have come from Canada and Mexico for treatment. One patient came for bowel surgery from the United Arab Emirates. Several years ago a patient arrived from Rome, Italy for surgery.

Ask if your hospital has a Board Certified Colon and Rectal Surgeon.
Is your surgery going to be performed by a Board Certified Colon and Rectal Surgeon or a general surgeon?
Why should you ask?
Because Colon and Rectal Surgeons achieve lower complication rates and lower mortality rates than general surgeons. In the past decade, many articles were published in the medical literature measuring quality of surgical care based on survival, complication rate, use of colostomy, length of hospitalization, functional outcome, and cost. In virtually every article and by every measure, surgeons with more specific training and greater operative volumes perform better. Yet, the medical profession has not embraced these findings.
Only surgeons certified by both the American Board of Surgery and the American Board of Colon and Rectal Surgery are qualified to call themselves colon and rectal surgeons and treat complex colon and rectal problems.

I found that many "colorectal" surgeons in South New Jersey are not Board Certified by the American Board of Colon and Rectal Surgery - one such doctor is listed as board certified in Proctology but this is not a board certificate recognized by the American Board of Medical Specialties.

Click to learn more about Board Certification
For more information go to Colorectal Surgeon comparison with general surgeon. as I cite literature specific to the treatment of anorectal problems.

Dr. Khoo's perspective on Cost Effective Colorectal Surgery.

Safety Comes from High Volume Providers

Colorectal Surgeons Have Better Surgery Mortality Rates

The Bell Curve by Dr. Atul Gawande in New Yorker Magazine

If you have an urgent problem - we will try our best to see you as soon as possible.

Do you have to wait months for a gastroenterologist to do your colonoscopy? Why wait when you can call Dr. Khoo and have your scope scheduled without a long delay.

For New Patients and for general information about our office, please click on For Patients. That page also contains important insurance information.

If you are a New Patient, click on New Patients page, which contains vital forms for you to download and read. You need fill out these forms and either bring them or mail them well before your visit.

For the newest information about What's New at the Center and many other colorectal topics, click on the What's New section. You will read the latest about Laparoscopic Colectomy, Virtual Colonoscopy, Screening for Colorectal Cancer and other interesting topics.

Dr. Khoo was interviewed about colon cancer in the movie "Change" which includes many Sonoma residents like Tommy Smothers. For details click on Change - the Movie. That movie was accepted at the Washougal International Film Festival and was shown at the San Fernando Valley International Film Festival in October, 2008.

If you are a patient needing more details about general as well as interesting colon and rectal surgery topics, please click on the Medical Information section.

To learn about our clinic, please click on the About Us section.

If you are from out of town, and many of our patients are, please click on the For Patients section - that has a lot of information about lodging and restaurants near our Center. This information is under the Visitor Assistance section.

STOP Colon and Rectal Cancer. The site coloncancerprevention.org for the STOP Colon and Rectal Cancer Foundation has closed but I leave my picture with Ernestine Hambrick to honor her and her efforts.



This foundation was started by Dr. Ernestine Hambrick in 1997. Her older brother died of colon cancer at 55 so she retired from her colon and rectal surgery practice to devote her time to the STOP Foundation.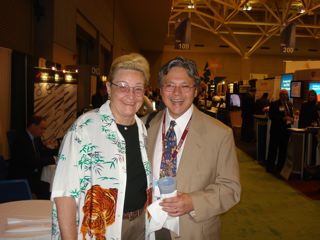 Dr. Ernestine Hambrick and Dr. Khoo
Sonoma County is declared a Colon Cancer Awareness Zone

On February 15, 2005, City of Santa Rosa, California Mayor Jane Bender read a proclamation that declared March as Colorectal Cancer Awareness Month and proclaimed the City of Santa Rosa Council and employees a "Colon Cancer Free Zone." This action was taken, with the encouragement of the American Cancer Society, to help save lives. A Colon Cancer Free Zone is a community education project to promote awareness, early detection and prevention of colorectal cancer.



City of Santa Rosa Colon Cancer Free Zone Declaration
Since that day, Sheryl Khoo with the American Cancer Society met with the Mayor of each major city in Sonoma County. With their approval, a presentation to each City Council and a proclamation was made to make their city a Colon Cancer Awareness Zone.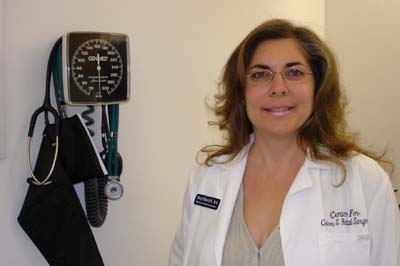 Every March is Colon Cancer Awareness Month. To raise public awareness about this common cancer, the President has declared March to be National Colon Cancer Awareness Month. You can find out more by going to:

National Colorectal Cancer Awareness Month.

National Colorectal Cancer Research Alliance Katie Couric helped to create the NCCRA to fund research and other efforts to prevent and treat colorectal cancer. Please go to this valuable website. You will see many celebrities speaking out for more screening and how it saves lives. Please go to:


National Colorectal Cancer Research Alliance.

Also visit the Colon Cancer Coalition at getyourrearingear.com

Thank you for visiting.

Copyright 2021 Center for Colon and Rectal Surgery. All rights reserved.